Make homemade nutrient-rich feed out of plants.
Garden without chemicals – Use Hozelock Biomix to easily make liquid feed or natural insecticide for your plants. It's easy with the Biomix, which has a lid and mixing action to ensure that the comfrey leaves decompose quickly whilst the pungent smell is contained within the mixer.
An integral strainer and tap – Makes removing the plant debris and draining the liquid into storage bottles easily without splashing. The resulting nutrient-rich compost tea can safely be used on all garden plants and the plant debris makes a top quality compost activator.
An economical and sustainable solution – Biomix pays back after only 2 uses: the manufacture of 10L of plant fertiliser (1x Biomix production) is the equivalent of purchasing 10x1L packs of plant feed!

Bee-friendly comfrey – (pictured left) makes a highly nutritional natural plant feed – high in potassium and micro-nutrients for flowering and fruiting plants. Try the Bocking 14 variety which doesn't cast seeds and spread in your garden.
Substitute nettles for high nitrogen feed to promote leafy growth – Gives a good boost to your plants that have suffered from frost or hail damage and stimulates young plants in spring.
Got a problem with pests? – Lavender solution is a great deterrent for ants or try bracken fern to repel aphids. You can add a spoonful of black soap to improve adhesion of the solution.
For more inspiration check out our information booklet in the Downloads section below.
PRODUCT FEATURES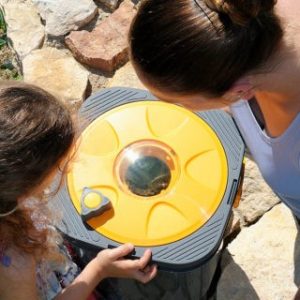 The closed tank has a lid, window and mixing action to ensure that the leaves decompose without needing to take the lid off.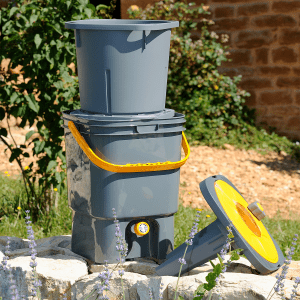 Easy to use filter to drain the liquid.
HOW TO USE

1. Put inside 1kg of plants

2. Add 10L of water and close the lid
3. Mix every 2 days (for 1 to 3 weeks depending on the outdoor temperature)

4. Filter and recover the plant fertiliser, it's ready! Dilute with water and spray
AWARDS

Multi-prize winner at European garden trade show, Journees Des Collections (JDC), in France in the following categories:
The prize for the most simplifying product in the "Self-produced garden" category presented by Gamm Vert
The prize for the most simplifying product in the "Natural garden" category presented by Botanic
BUY NOW
Find your nearest BioMix retailer on the stockist map below.